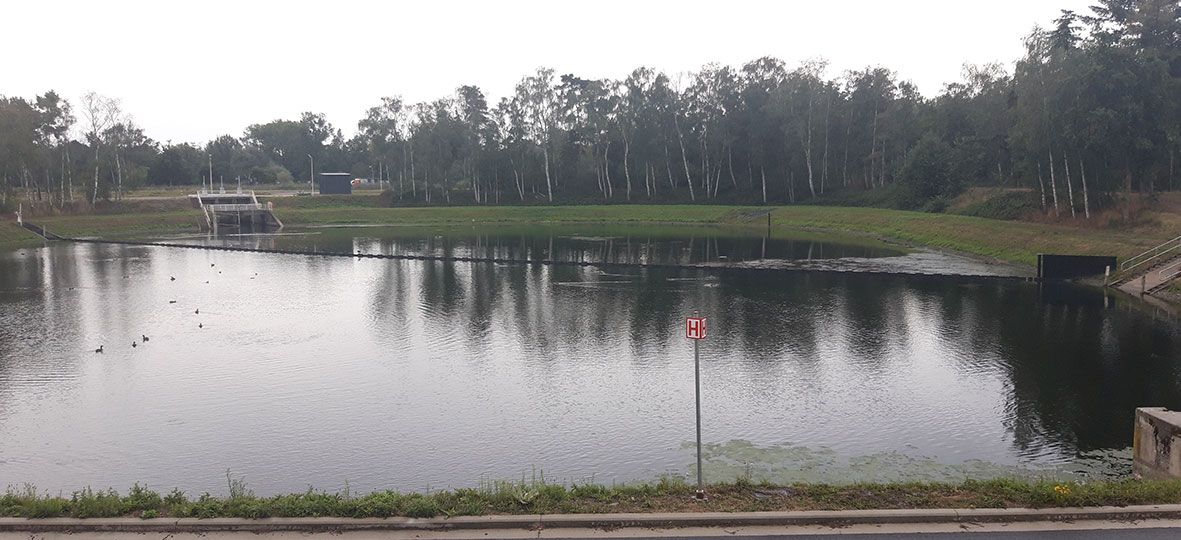 Floating debris boom against water weed
Bolina floating debris boom against water weed at Water-Link
Water-Link is in charge of the supply of drinking water in northern Belgium, drawing on natural water reserves in the Lier and Duffel areas to produce potable water for the wider Antwerp region.
Each year, the large buffer basins are made to deal with problems to do with the excess growth of water weed. Water weed may deliver oxygen to the water, but these invasive species, which is a particularly fast grower which also floats on the water surface, clogs up the water courses and drain grates. At Water-Link too, these plants continue to block the water flow between the various basins. Constantly having to keep the debris gratings clear during the summer and the late summer to prevent the water supply for the drinking water process from being compromised is a highly labour-intensive job.
Positioning Bolina's PDB-600 permanent floating debris boom a few tens of metres ahead of this water supply point stops the water weed before it even gets to the debris grating. Removing the water weed too has now been made a swift and easy task, as no further manual intervention is required at the narrow grate. The reason being that a digger with a sorting grab scrapes all the water weeds on the smooth wall of the Bolina debris boom towards it before directly depositing the weed into a container. And as the floating debris boom has been fitted at a 45° angle, the flow, combined with the smooth wall, makes sure the water weed is automatically directed to the bank.
Only the first collection basin in Lier currently has the Bolina floating debris boom, although plans are afoot to also equip the other basins with these booms in 2021.