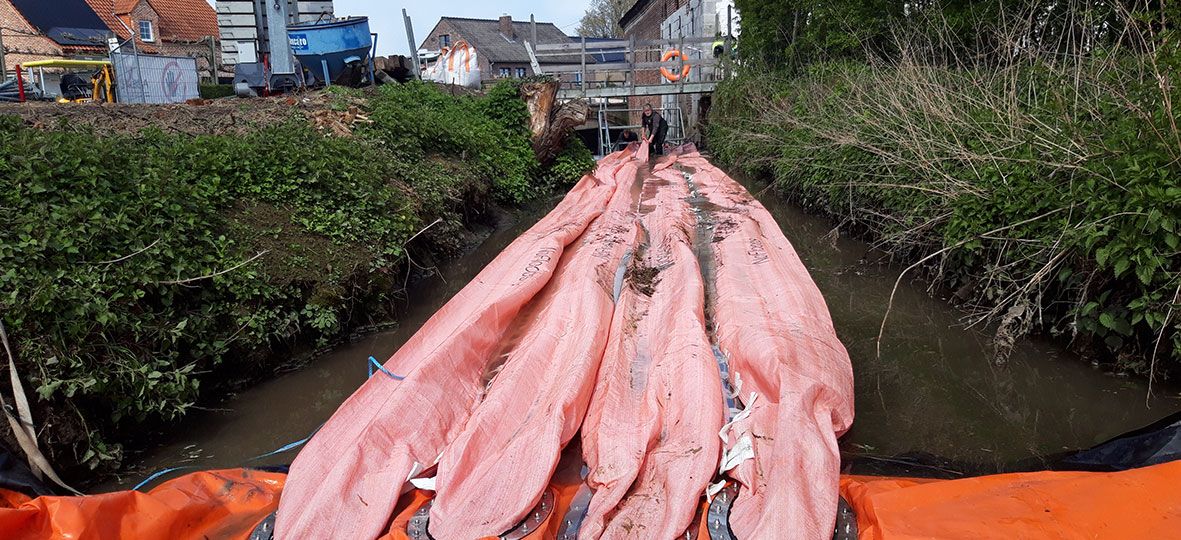 Eco friendly mobile dam and aqueduct by flexible tubes for bypassing the Metstermill in Belgium

Metstermolen tijdelijke droge bypass van de Melsterbeek tijdens renovatiewerken
The MetsterMill in Sint-Truiden Belgium will undergo a very thorough architectural renovation in 2021 by contractor ABB&Z on behalf of the owner.
From the measurements and architectural study, it was clear that the mill wall on the Melsterbeek had to be rebuilt and the foundations were no longer adequate. Furthermore, the status of the mill basin was also unknown, was there a concrete floor present and in what condition, was there leaching underneath?
In order to make the restoration possible, this zone on the waterside had to be drained completely. First for a thorough inspection, but also later for the restoration itself. Closing off a natural stream with an earth dam is not that complex in itself, but the Melsterbeek is located between the mill building and the public road, just before the bridge under which the Melsterbeek flows. There was no possibility to create a natural bypass by excavation anywhere.
In consultation with Environment Solutions, a combination of a Flexwall was used as a dam with 2 flexible twin tubes as discharge pipes. As a result, a flow rate of up to 500l/sec could first be pushed up but then discharged into the pipes until after the mill. Given the fixed threshold of 1m50, an oblique scaffolding was built to allow the flexibles to slowly descend. A small flexwall was then provided at the back to prevent the water from flowing back. Thanks to this arrangement of a large flexwall, the twin tubes and the small Flexwall at the rear, made it possible to dry the entire work area.
The work was carried out in 2 phases, whereby the scaffolding was first placed next to the mill wall, so that ¾ of the mill basin could be fitted with a new concrete floor slab. As soon as the concrete had hardened, the scaffolding was placed on this floor slab in the 2nd phase, so the zone at the mill wall was free and dry to start the restoration, re-building and grounding
The flexwall and tubes will also be used to restore both banks upstream, here too the tubes will be used and moved several times to create a dry work zone where needed.
Thanks to this innovative solution, it was possible to adapt the bypass setup to the needs of the contractor in the different phase of the project, without heavy equipment. No earthmoving was required and to ensure safety in the event of high-water discharge, the dam could be flooded or preventively removed quickly.